by Carol Glassman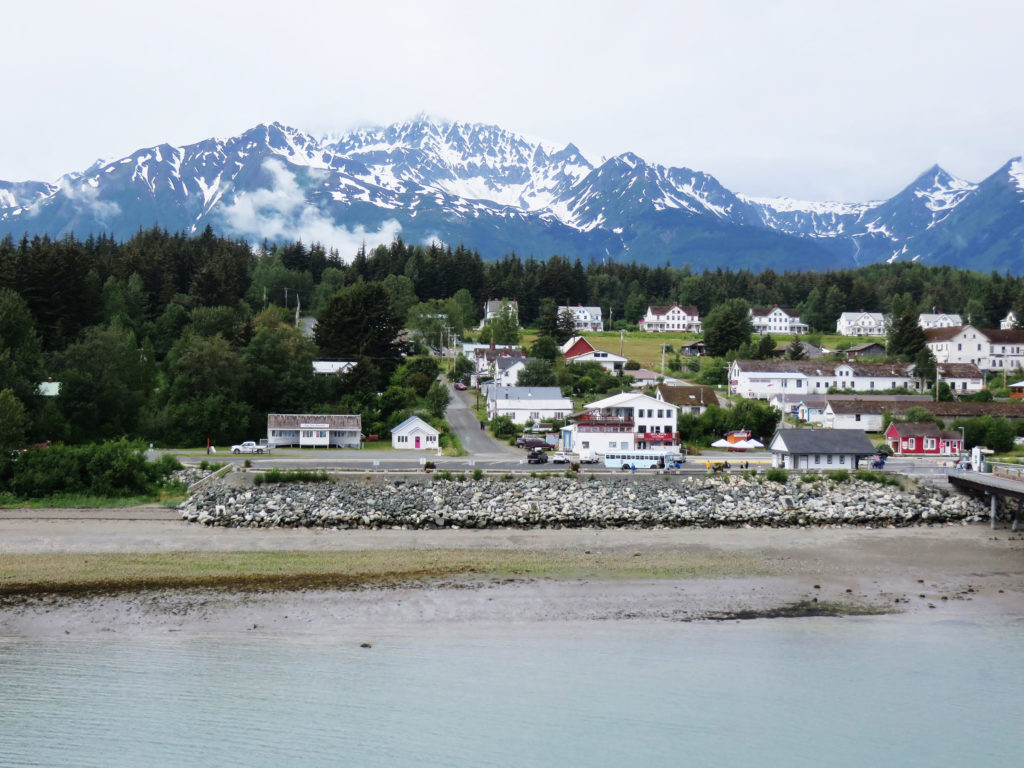 Haines, Alaska – Photography by Carol Glassman
In the past few years my vacations have taken me to some interesting places in the world — perhaps not terribly unique or out-of-the-way to seasoned wanderers,  but for a not-so young single woman traveling alone I found them pretty exciting.  I also discovered that although I had always thought I preferred big, busy cities, I am actually more at home surrounded by silence and the beauty of nature.
These days there are many reality TV shows that can introduce you to Alaska, "The Last Frontier".  Alaska can be just as wild and remote as it looks, but it also offers grand and majestic scenery in more accessible areas with running water, inside plumbing and deodorant if you're not quite ready to strap on the hiking boots, shoulder a rifle and take off with a backpack full of dried pemmican for weeks of unwashed outdoor living.
My late husband and I took our first cruise to Alaska nine years ago. Since it was his first cruise experience and we had never met anyone who didn't like Alaska, we figured it was a safe bet.  We enjoyed it tremendously.  Since then, I have visited places such as Milford Sound in New Zealand and the Chilean Fjords in South America, and lovely as they were, I came away a little disappointed.  What were they lacking?  I finally decided they simply didn't affect me the way I recalled Alaska.
Now you know we all carry memories with us of Mom's apple pie and huge homes where we grew up, and when we finally revisit these events we find Mom's pie is very good but not really unique, and either the old homestead has shrunk or we simply got bigger;  romance and nostalgia for the past can play tricks on us! So it was with a little hesitation that I planned a return cruise to Alaska on my own.
Let me say at the outset that I am a big fan of cruising as I enjoy the freedom of traveling alone on a medium size ship (under 900 passengers) where I can take advantage of all the amenities, great dining, and have as much or as little company and entertainment as I choose. I don't believe in roughing it when I am on vacation and clearly understand that not everyone will share my views. I also don't enjoy sharing a cabin or feeling obligated to eat, sleep or live by another's  idea of fun when all I may want to do is relax and read all day on the deck. However, I do like to assure mature women who may be nervous about solo travel, that a cruise is a great choice where you can eat alone and read a book, or share a table with others and possibly enjoy a lively conversation with new friends.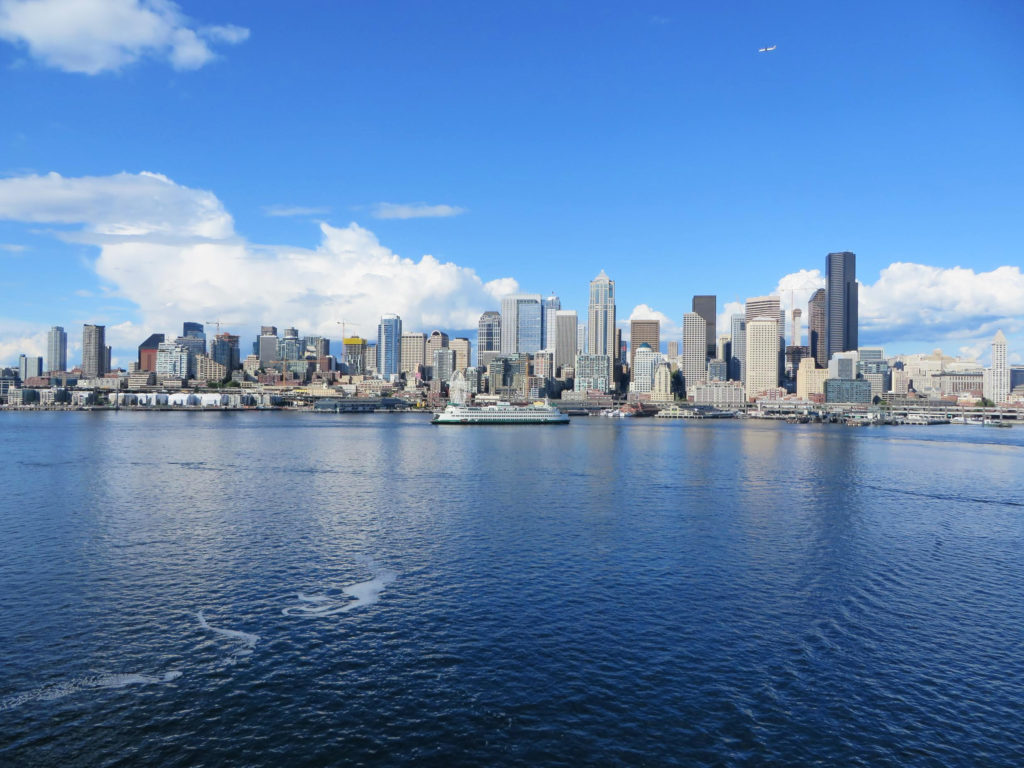 Seattle skyline – Photography by Carol Glassman
This time I chose to spend a few days sightseeing in Seattle before boarding the cruise which took me north along the Inside Passage to Ketchikan, Wrangell, Juneau, Haines, the Hubbard Glacier, Icy Strait Point and Hoonah, Sitka, Victoria and Vancouver , British Columbia (Canada) and back to Seattle.  One can also begin the trip in Vancouver, as both Seattle and Vancouver offer a variety of different-priced cruises and itineraries.
Vancouver, BC – Photography by Carol Glassman
One of the best things about cruising on a medium size ship, is that most of the time you find yourself docked at the pier which is usually right in the center of the town. If you don't want to pay extra for an excursion, you can walk off the ship and sightsee on your own.
While sailing, binoculars might enable you to see diving whales, sea otters, and a wide variety of birds. The Inside Passage is pretty smooth sailing for a novice and if there is any rougher weather at all, it will be on the return south as the ship heads outside for Victoria and Vancouver. It's an experience to have lunch in Victoria, Canada one day and Vancouver the next.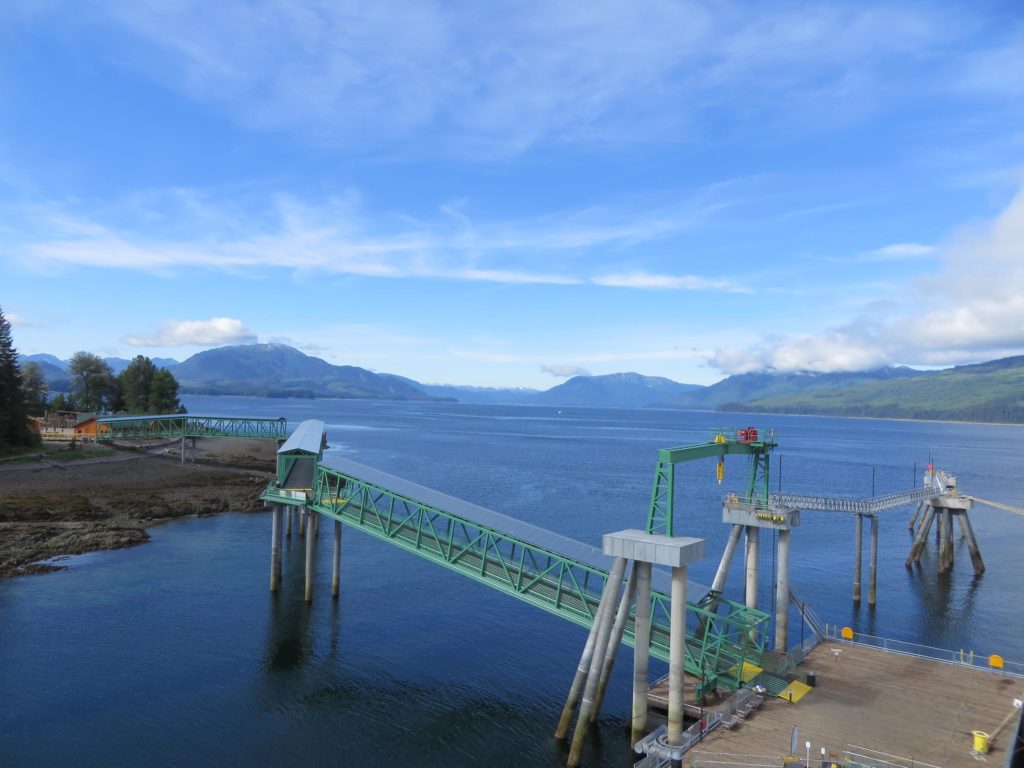 Icy Strait Point, Hoonah – Photography by Carol Glassman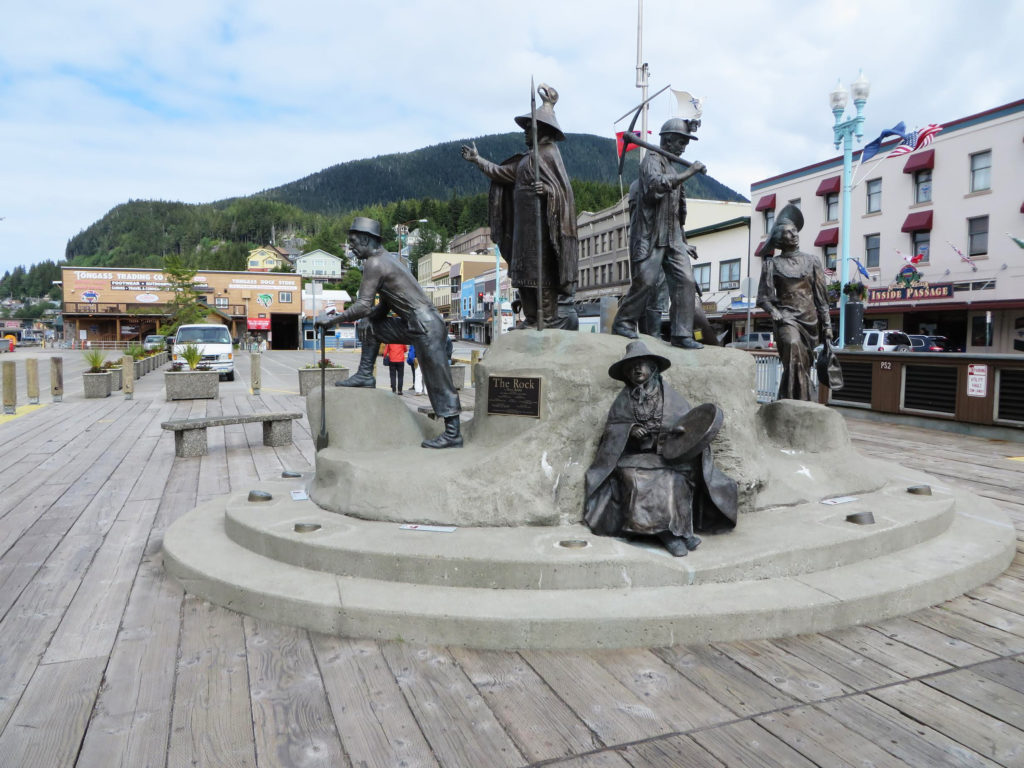 First Settlers, Statue in Ketchikan Harbour – Photography by Carol Glassman
Rather than give a travelogue of each and every location, I suggest an Internet search before you go to  discover what each town offers, and your ship will provide a lot of information about land excursions that are available at each port. These vary widely from guided historical and cultural walks through the town to helicopter rides, salmon fishing,whale watching and zip lines for the adventurous.
When we visited the first time, almost every town was full of souvenir stores where everything one picked up was 'Made  in China'.  Recently Alaska seems to have attracted a lot of excellent artisans and these days many items are proudly handcrafted in Alaska, from pottery to ulu knives, jewelry, cosmetics, fine art, and handwoven fabrics. Of course you can also purchase and ship Alaska smoked salmon.
For me, the highlight of the trip and worth every dollar, was the day spent at the Hubbard Glacier. Most cruises spend hours either here or in Glacier National Park.  Hubbard Glacier is about seven miles wide where it ends at Disenchantment Bay, and the bluish ice you will see there is about 400 years old as that's how long it takes for it to travel from its source.  Every so often there is a thunderous roar and crackle as pieces of ice the size of a ten-storey building calve – break off and fall into the water, while visiting ships carefully keep their distance. A photo cannot possibly communicate the awesome majesty and grandeur of one of the largest glaciers in the world. The sun may shine but you would be wise to pack a down jacket, as even in June and July the weather, just standing on the ship's deck, can be quite frosty. Most ships anchor offshore and turn slowly for hours so that everyone gets a 360º view of the glacier. The glacier and the breathtaking views of snow-capped mountains are what I came for and I was not disappointed.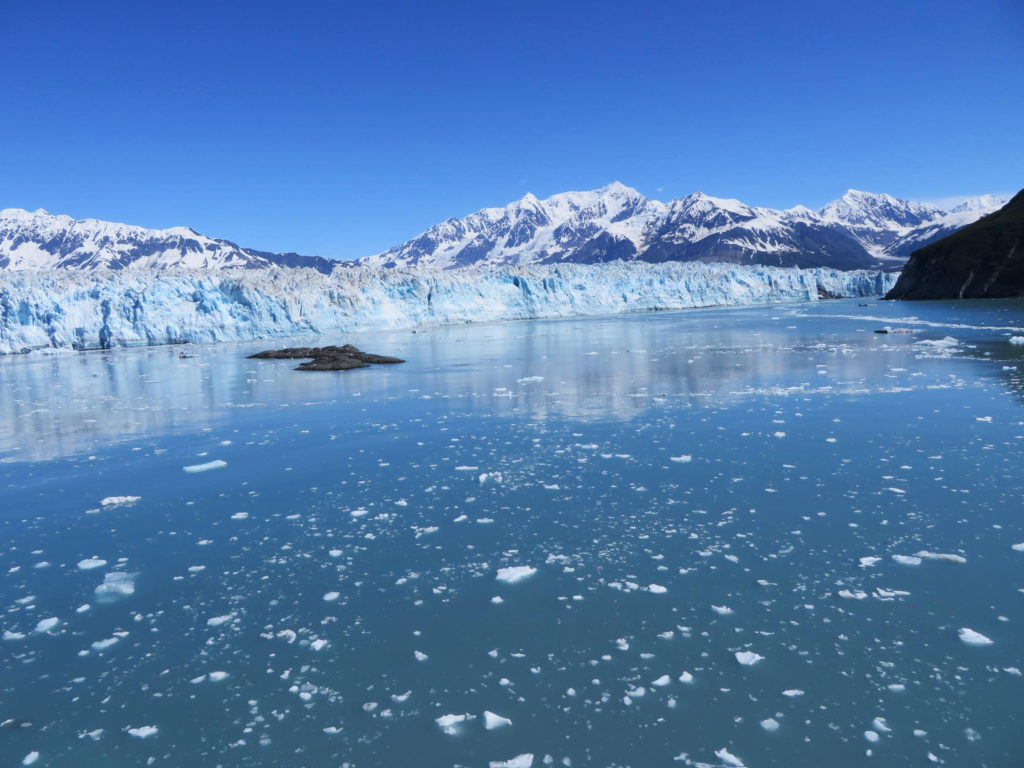 Hubbard Glacier – Photography by Carol Glassman
I have not experienced that kind of peace and silence since I skied — the moment  when the  ski lift drops you at the top of the hill and you are alone in the ice cold air and sunshine — it's a moment you would like to freeze in time and revisit at will.
This is just the tip of the Alaskan iceberg in more ways than one. I would encourage you to go and experience the rest – by land, rail, or sea. It may be the last frontier but it offers a first-class experience.
ALASKA APPEALS TO A VARIETY OF TASTES