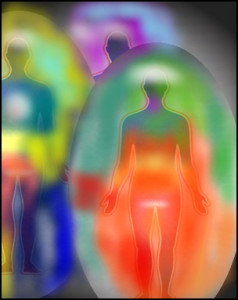 "Every atom, every molecule, every group of atoms and molecules however simple or complex, however large or small, tells the story of itself, its pattern, its purpose, through the vibrations which emanate from it. Colors are the perceptions of these vibrations by the human eye… Color seems to be a characteristic of the vibration of matter, and our souls seem to reflect it in this three-dimensional world through atomic patterns. We are patterns, and we project colors, which are there for those who can see them." – Edgar Cayce
---
THE AURA
The aura is the electromagnetic field that surrounds the human body and every organism and object in the Universe. This energy structure that envelops the physical body is often referred to as "Auric Field" or the "Human Energy Field".
Metaphysical and energy healing studies explain that this field is comprised of energies of varying densities that permeate through the body. The particles of subtle energy are spread through and around the physical body in an oval-shaped field, forming an 'auric egg' that extends approximately two to three feet in each direction.
The aura contains different layers that are called the "Subtle Energy Bodies". These vibrational fields of energy overlap and affect each other profoundly. It is their unrestrained flow of life force energy that maintains the physical body. These layers vary in depth, energy, and frequency at any given moment in time. They fluctuate in response to our physical health, our experiences, thoughts, and emotions. As a result, they are dynamic and ever-changing in nature. (Read more in our previous article, Beyond the Physical Body – Understanding Our 'Energy Bodies', published in the September 2015 issue, or online at www.WhiteLotusMagazine/Articles.)
This electromagnetic sheath that exists around the physical body contains information about our physical, mental, emotional, and spiritual state of being. Auras can reveal insights about us: about our true selves, about our thoughts, feelings, dreams, and even underlying health problems.
AURA COLORS
In the world of energy medicine, it's believed that all living beings emit energy that vibrates with specific frequencies, associated with specific colors. The colors can be seen by gifted people and those trained in the arts of energy healing. Energy healers are not only able to see, feel, and read auras, but they can also manipulate them for effective healing. The perception and understanding of the aura colors is beneficial, often essential to their healing work.
Auras typically contain several colors, often with one predominant color. These colors can change based on our soul's evolution, our experiences, thoughts, emotions, and even the food we eat. Each color indicates unique conditions and carries specific attributes. Understanding them could be the key to achieving and maintaining our physical, mental, emotional, and spiritual wellbeing.
SEEING THE AURA
Stand in front of a good size mirror. It is best if the background behind you is softly illuminated, plain white, and there are no shadows.
Choose a spot to look at. The middle of the forehead is often recommended (the location of the Brow or the Third Eye Chakra). But you can also look just a few inches above the top of your head.
Look at this spot for 30 to 60 seconds.
After 30-60 seconds, analyze your surroundings with your peripheral vision, while still looking at the same spot. Continue focusing on the same spot. Resist temptation to look around. You should start to see that the background around you is brighter and has a different color than the background further away. What you are seeing is your aura! The longer you concentrate, the better you will see it. Remember, concentrating on one spot increases your sensitivity by accumulating the effect of the vibration of the aura reaching your eyes.
You can further practice seeing auras with the assistance of other people. Keep practicing until you feel confident about recognizing the different colors. Soon you may see everyone and everything quite literally in a different color!
---

RED
Red as a dominant color in the aura indicates force, vigor and energy. It may also signify money worries or obsessions, anger or inability to forgive, anxiety, or nervousness. Red can also imply aspects of survival, raw passion, frustration, determination, a sense of importance, or feeling overwhelmed by change.
INDICATIONS: energy, strength, courage, force, passion, anger, anxiety, survival, determination
TEMPORARY CLOUDS, FLAMES OR SPARKS: They represent materialistic thoughts and thoughts about the physical body.
BODY PARTS/ORGANS: the physical body, heart or circulation.
AFFLICTION: nervous troubles, egotism
MUSICAL NOTE: Doh
CELESTIAL BODY: Mars
RAY OF LIGHT: the first-ray quality of will.
DARK RED
Dark red indicates high temper. This color is a symbol of nervous turmoil. It suggests a dominating personality or someone who is quick to act.
DEEP RED
It reflects a grounded, realistic, active, survival-oriented person with strong will-power.
CLEAR RED
Clear red indicates a good, bright and pure state. This bright, clear red energy can demonstrate a healthy ego and characterize a powerful, energetic, competitive, and passionate person.
ORANGE
Orange is the color of vitality, vigor, good health, and excitement. It generally indicates thoughtfulness and consideration of others. It suggests that the person has lots of energy and stamina, and a creative, productive, adventurous, courageous, uplifting, absorbing, inspiring, and outgoing nature. Orange in the aura relates to sensuality, physical pleasure, emotional self-expression, creativity, lacking reason, lacking self-discipline. It could indicate that the person is currently experiencing stress related to appetites and addictions.
INDICATIONS: vitality, stamina, good health, excitement, creativity, sensuality, physical pleasure, and an uplifting, inspiring, and outgoing personality
TEMPORARY CLOUDS, FLAMES OR SPARKS: An orange cloud over the head may suggest thoughts about exercising power and the desire to control people.
BODY PARTS/ORGANS: Orange may indicate kidney trouble.
AFFLICTION: Laziness, repression
MUSICAL NOTE: Re
CELESTIAL BODY: Sun
RAY OF LIGHT: the fifth-ray energy of concrete science.
ORANGE-RED
It suggests creative power and confidence.
ORANGE-YELLOW
It indicates a creative, intelligent, detail-oriented, perfectionist, and scientific personality.
GOLDEN ORANGE
It indicates self-control and vitality.
BROWNISH ORANGE
It may signify lack of ambition and a "don't-care" attitude.
YELLOW
Yellow symbolizes joy, freedom, non-attachment, and releasing vital forces. It shows that the person is full of joy, very generous, and not attached to anything. It is the color of awakening, inspiration, intelligence, perfectionism, organization, and action. It suggests a creative, friendly, playful, optimistic, easy-going, child-like, or ego-driven personality. It may also indicate mental alertness, analytical thoughts, happiness, optimism, thinking at expense of feeling. A yellow halo around the head is a signature of a spiritual teacher.
INDICATIONS: joy, wisdom, clarity, direction, intelligence, organization, affection, confidence
TEMPORARY CLOUDS, FLAME OR  SPARKS: They indicate a moment of joy and contentment.
BODY PARTS/ORGANS: the spleen
AFFLICTION: weakness of will
MUSICAL NOTE: Mi
CELESTIAL BODY: Mercury
RAY OF LIGHT: the third-ray energy of active intelligence.
GOLDEN YELLOW
It symbolizes health, well-being, and good mentality. It implies spiritual energy and personal power. Golden yellow characterizes an inspired, awakened person.
PALE YELLOW
Pale yellow in the aura may reflect merging psychic and spiritual awareness. It could also suggest optimism, hopefulness, and excitement about new ideas.
BRIGHT LEMON YELLOW
It may suggest that the person is struggling to maintain power and control in a personal or business relationship. It indicates fear of losing control, prestige, respect, and/or power.
DARK BROWNISH YELLOW
A student, or one who is straining at studying; overly analytical to the point of feeling fatigued or stressed; trying to make up for lost time by learning everything all at once.
GREEN
Green suggests natural healing abilities and a restful personality. When seen in the aura it usually represents growth and balance, and most of all, something that leads to change. It could also indicate love of people, animals, and nature. It signifies a teacher or a social person. Green relates to healing, peace, nurturing, new growth, need for security and balance.
INDICATIONS: healing, hope, peace, balance, calmness, compassion, and love of nature
TEMPORARY CLOUDS, FLAMES OR SPARKS: They indicate a restful state and healing.
BODY PARTS/ORGANS: heart and lungs
AFFLICTION: jealousy, fear, and envy
MUSICAL NOTE: Fah
CELESTIAL BODY: Saturn
RAY OF LIGHT: the fourth-ray energy of harmony through conflict
BRIGHT EMERALD GREEN
It represents a healer. It could also characterize a love-centered, helpful, strong, friendly, and peaceful person.
LIME GREEN
It may indicate deceitfulness.
YELLOW GREEN
It signifies creativity and a communicative nature.
DARK/MUDDY FOREST GREEN
It symbolizes jealousy and resentment. It might indicate that the person is feeling like a victim of the world. It could also identify insecurity and low self-esteem; lack of understanding personal responsibility; blaming oneself or others; and sensitivity to perceived criticism.
BLUE
Symbolizes balanced existence, sustaining life, eased nerve system, transmitting forces and energy. They are born survivors. Cool, calm, and collected, caring, loving, love to help others, sensitive, intuitive. Relates to verbal communication, free-thinking, structure and organization, emphasis on business, male energies, sadness, possibilities. Blue has always been the color of the spirit; the symbol of contemplation and prayer. Almost any kind of blue is good, but the deeper shades are the best.
TEMPORARY CLOUDS, FLAMES OR SPARKS: They suggest thoughts about achieving a balance of the mind, or a thought about surviving.
BODY PARTS/ORGANS: the throat, thyroid
AFFLICTION: Struggle, Melancholy
MUSICAL NOTE: Sol
CELESTIAL BODY: Jupiter
RAY OF LIGHT: the second-ray energies of love, attraction, wisdom, and radiance
PALE BLUE
It may indicate a struggle towards maturity. The person might have many heartaches and headaches, but he keeps trying and going in the right direction.
SOFT BLUE
It reflects peacefulness, clarity and communication. It suggests a truthful and intuitive person.
AQUA
Aqua signifies a person who has talent, works hard, and gets a lot done.
ROYAL BLUE
It represents clairvoyant abilities. It indicates highly spiritual nature. It can suggest generosity, being on the right path; and that new opportunities are coming.
TURQUOISE
It often characterizes healers. Turquoise implies a sensitive and compassionate personality.
DEEP BLUE
Deep blue reflect a spiritual-minded, unusual person, who has found his work and is immersed in it. He's also apt to be moody, usually dedicated to an unselfish cause, and has a mission that he steadfastly goes about fulfilling.
MUDDY BLUE
It indicates fear: fear of the future; fear of self-expression; fear of facing or speaking the truth.
INDIGO
It reveals an intuitive and sensitive person with deep feelings. It also signifies a seeker: always searching for a cause, an answer, a religious experience.
INDICATIONS: calmness, perception, intuition, psychic abilities
TEMPORARY CLOUDS, FLAMES OR SPARKS: Indigo clouds or flames represent intuitions and divine thoughts.
BODY PARTS/ORGANS: pituitary gland
AFFLICTION: obsessions, difficulty concentrating, detachment from reality
MUSICAL NOTE: Lah
CELESTIAL BODY: Venus
RAY OF LIGHT: the sixth-ray qualities of devotion, idealism, and religious fervor
VIOLET
Violet points to a very spiritual person. It usually indicates evenness of mind and searching for a cause or religious experience. The person with violet in his aura tends to be overbearing. Violet also represents wisdom, authoritative nature, female energies, matriarchal qualities, sense of superiority, control, imagination, and intuition.
INDICATIONS: inner peace, transformation, spirituality, awareness, mental peace, intuition, imagination, and wisdom
TEMPORARY CLOUDS, FLAMES OR SPARKS: Violet usually is not a strong point in the aura – it appears only as temporary clouds and flames, indicating truly spiritual thoughts.
BODY PARTS/ORGANS: pineal gland and nervous system
AFFLICTION: spiritual attachment, arrogance
MUSICAL NOTE: Te
RAY OF LIGHT:  Associated with transmutation because of its connection with the seventh ray
CELESTIAL BODY: Moon
LAVENDER
It indicates imagination and the connection with the Etheric plane. It characterizes a visionary, a daydreamer.
SILVER
This is the color of abundance, both spiritual and physical. Lots of bright silver can reflect to the awakening of the cosmic mind. Bright metallic silver indicates that the person is receptive to new ideas; he is intuitive and nurturing.
GOLD
When seen in the aura, gold indicates high spiritual vibration, wisdom, integrity, respect, freedom, clear seeing, and the assimilation of spirit and body. It can also denote an enlightened spiritual master. It represents that something wonderful is taking place in the person's life.
WHITE
White represents a pure spirit and perfect balance. It indicates a pure state of light. It often represents a new, not yet designated energy in the aura. It also suggests spiritual, etheric and non-physical qualities, transcendence, and a connection to higher dimensions. It symbolizes purity, truth, and angelic qualities. White signifies very high spiritual vibration, and divine inspiration. It implies that the person is seeing the spiritual 'big picture'. It could also indicate that angels or guides are nearby.
PINK
Pink in the aura reflects a loving, tender, sensitive, sensual, artistic, affectionate personality. It indicates self-love, tenderness, female energies, and the emphasis on physical appearances. It symbolizes purity, innocence, and compassion. It could also point to a new or revived romantic relationship. It may signify a balance between spiritual awareness and the material existence. It can refer to having the gift of clairaudience. Dark and Murky Pink may indicate an immature or dishonest nature. 
BROWN
It relates to down-to-earth, practical, male energies. Brown in the aura could be a sign of invalidating, emphasizing body and denying spirit, feeling worthless and insecure, and holding on to certain not-so-beneficial energies.
GRAY
Gray in the aura shows that residue of fear is accumulating in the body, with a potential for health problems — especially if gray clusters are seen in specific areas of the body. Gray indicates blocked energies. It also characterizes negative, dark, depressive thoughts and emotions.
BLACK
Black in the aura implies hatred, anger, revenge, and malice. It represents issues relating to death, unresolved karma, and dark intentions. It usually indicates lack of compassion and long-term inability to forgive (oneself or another person). Black in the aura draws energy to it and in so doing, it distorts that energy. It captures light and consumes it.
---
DISCLAIMER:
This article is proposed for informative purposes only. It is not intended to provide medical advice, diagnosis or treatment.

SOURCE:
Auras by Edgar Cayce
Soul Psychology by Joshua David Stone, Ph.D
www.reiki-for-holistic-health.com/auracolormeanings.html
www.thiaoouba.com/see_aura_color.htm
AURA COLORS AND THEIR MEANINGS