by Carol Glassman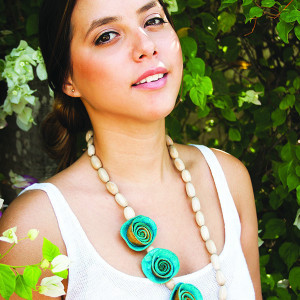 What are the possibilities? Most of us consider orange peels to be trash, something we throw away after we remove the skin from the succulent fruit. But a rose? That's a beautiful, sweet-smelling flower. Why on earth would we think about them in the same sentence? Or even consider turning one into the other?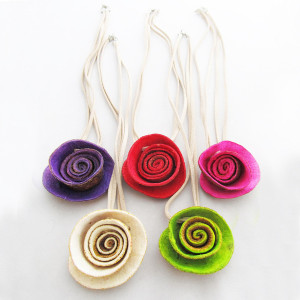 Catalina Lemaitre, founder of Calamarie (eco handmade art), had both the vision and experience to apply the synergy necessary to turn someone's trash magically into treasure. With a background in public diplomacy and economic development for the State Department, combined with a love of art and history, a trip to her native Columbia to research starting a nonprofit arts organization afforded her an opportunity to unite her passions: the environment, economic development and empowerment of women, art and the preservation of traditional art forms.
"The Orange Peel jewelry collection was inspired by 'roses' made from the discarded orange peels collected from street juice vendors in Cartagena," Catalina said.
The skins are thoroughly cleaned before undergoing a seven-day sun-drying, shaping, and dying process that results in lush, wearable roses. The blossoms are then combined with seeds, vegetable ivory, coffee beans, and other eco-friendly materials to create necklaces, bracelets, earrings, and pins. She also incorporates natural materials in other pieces—the Mariposa collection incorporates dried silk cocoons, and other jewelry makes use of recycled sari fabric and metalwork.
Cocoons from silkworms are transformed into lightweight statement accessories. Seeds (camajuro, acai, chirilla, bombona) and nuts (vegetable ivory, an eco-friendly ivory alternative) are hand polished and painted to become soft and warm-to-the-touch beads.  Freshwater pearls and hand-forged gold-dipped bronze add elegance and a touch of whimsy. Cañamo, a resistant and beautiful natural fiber strings it all together, uniting these gifts of nature and transforming them into wearable little treasures.  But why stop with a  rose, when an intricate knot or a lotus can also emerge?

Catalina understood that most people don't analyze every purchase or understand that every time they buy something, they make a choice about what kind of world they want to live in.
"The things we purchase have a tremendous impact on the planet and are connected to the real people who make them," she said.
She strives to allow Calamarie designs to pay homage to the culture, arts and crafts of the indigenous communities across Colombia as well as to the inventiveness and creativity of the modern day artisan's art. She named the company in honor of the indigenous Calamari people who lived in her hometown of Cartagena, Colombia, prior to the Spanish conquest.

A Florida-based company, Calamarie promotes fair trade and social responsibility through long term alliances with gifted artisans.  For the majority of these women artisans, their craft is their sole source of income. Catalina goes to Colombia several times a year to work with the artisans to develop new designs and to oversee production.  As demand has grown, more and more artisans have joined the Calamarie family: women from disadvantaged urban neighborhoods in Colombia's capital of Bogota are trained to make bracelets, necklaces and more. This work provides them with income and the flexibility needed to continue to take care of their children and households. The seeds are all hand painted and hand polished by a small artisan shop, led by a true artist. Orders allow him to keep his young children in school and to preserve his craft. A young college student and members of his family shape and paint every orange peel piece in the collection as a way to pay his way through college. Indigenous mothers along the coast of Colombia create select bracelets to raise funds for their first ever-local school. The list grows every day as more women find Calamarie and come to appreciate their little treasures.

"Our socially responsible agenda also extends to collaboration with foundations that promote healthy communities," Catalina said. "A percentage of our sales benefits a range of social justice causes worldwide, among them Fundacion Ipauratu, a small foundation on the coast of Colombia that benefits indigenous mothers and their children, and the Center for Mind Body Medicine in Washington, D.C.
"Calamarie jewelry is natural, one-of-a-kind, and made for the conscious modern woman who wants to do good, look and feel good, and who deserves to have it all—without breaking the bank. My hope is that people will want to support artisans when they understand their story, when they know a little something about where the item came from and what it means. In a world that is ever more disconnected it is about connecting us with those behind the products we purchase."
Catalina says what she sees every day has become the most rewarding part of her job, recognizing that through this project they are helping women feel beautiful and inspiring them to connect with themselves and nature and to think outside the box.

"If an orange peel can become a rose then…..what can you blossom into? The company slogan wasn't dreamed up as a part of any marketing effort when starting the company; it was born from years of meeting women and seeing them be inspired by Calamarie pieces. It's that sense of wonder and appreciation for nature's magnificence and beauty that for me personally, has been the greatest gift to come out of our work."
You can find Calamarie jewelry in Naples at the Shop at the lovely Naples Botanical Garden, and at Oh My Gauze on Fifth Avenue, (also in Sarasota) or shop online at www.calamarie.com.
CAN AN ORANGE PEEL BECOME A ROSE?