harmony . patience . creativity
Orange is often associated with fire, warmth, beauty, attraction, kindness, optimism, success, abundance, prosperity, celebration, energy, play, and joy.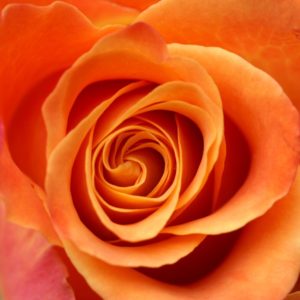 POSITIVE ASPECTS:
Deep Insight, Independence, Creativity, Harmony, Curiosity, Social, Cheerful, Adventurous, Energetic, Exciting Personality
CHALLENGES:
Frivolous, Lack of Seriousness, Flamboyant, Loud
CHAKRA: Sacral Chakra
MINERALS/CRYSTALS:
Agate, Amber, Orange Calcite, Copper, Sunstone, Carnelian
---
Did You Know?
Orange is the second lowest of the seven colors in the visible spectrum of light, between red and yellow. The wavelength of orange light is approximately 527-622 nm on the electromagnetic spectrum.
---
COLOR HEALING
(Also called Color Therapy or Chromotherapy) is the use of color as a healing tool to create balance and restore health in certain areas of the physical body as well as in the mental, emotional and spiritual areas. Orange can be utilized in different forms when applied in Color Healing. The most commonly used modalities include Crystal Therapy, Visualization, Color Silk Therapy, and Colorpuncture.
---
ATTRIBUTES
Orange has a freeing action upon the body and mind, relieving repressions. Orange shows new possibilities and other options in life. It can stimulate creative thinking and enthusiasm, and help assimilate new ideas. It is also helpful in dealing with excess sensual expression.
Bring orange in your life when you feel: a lack of interest in what's going on around you; resentment to change familiar routines; being unable to see humor and playfulness in life; fear of experiencing pleasures through sensuality; an inability to let go of the past; and when you feel blocked creatively.
In Color Healing (Color Therapy) orange is believed to stimulate the lungs, the respiratory system and digestion. It also increases the activity of the thyroid and it may offer relief from muscle cramps and spasms.
---
WEARING ORANGE
In times of stress, or after a trauma or a shock, wearing orange can help the body and the emotions to return to a state of balance. Incorporate orange into your wardrobe when you feel bleakness and boredom, and when you might need encouragement, stimulation, and creativity. Wearing orange can imply a youthful, dynamic, & adventurous personality.
---
ORANGE IN THE HOME
The color orange is often called the "social" color, as it creates the feng shui energy to promote lively conversations and good times in your home. Painting a chair or a side table orange can bring warmth into your home and also inspire color therapy attributes on a budget.
---
SOURCES:
Healing with Crystals and Chakra Energies by Sue & Simon Lilly
www.deeptrancenow.com/colortherapy
www.energyandvibration.com/colororange