The MARCH 2017 Issue is now available in print at select locations.
See the list of pick-up locations here.
---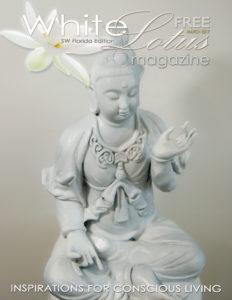 Click on the cover to download to your computer or mobile device.
(Download may take a few minutes)
---
NOTE from the Editor
One of my strongest qualities – and perhaps one of my most annoying ones – is that I am quite stubborn. I don't give up easily. Because of that, I tend to over-commit and push myself a little too far. As a consequence, I find myself burnt out at times. That being said, I am in a desperate need of a break. I decided that I am going to put a hold on White Lotus Magazine for a little while. After the next issue I will have to take a short sabbatical.
During a well-needed break I will also restructure the publishing of the magazine. The constant deadlines, the month-to-month publication schedules, and having to rely on advertisers for the printing cost every month put too much pressure on me and created stressful circumstances for an otherwise joyful journey. I aim to cut stress out of my life, not invite it in.
My plan is that after the April 2017 Issue, White Lotus Magazine will no longer be a monthly publication. Following a break, I'd like to find a way to continue with the magazine without the constant financial and mental pressures. In order to stop depending on advertising fees and contributions for the printing month after month, I am considering a more relaxed printing schedule (perhaps bimonthly), or going online entirely and creating only a digital version of the magazine that our readers can download to their computers or mobile devices to view.
I'd like to return White Lotus Magazine to what my original vision was: creating and sharing a quality publication that inspires and raises vibrations – but without the competitive, high-pressure environment of magazine publishing.
Anna Krecicki,
Publishing Editor