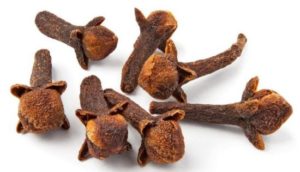 Clove is an exceptionally versatile essential oil that has many medicinal and spiritual properties. The oil is steam distilled from the bud, stem, and leaves of the evergreen clove tree. The most common use of clove oil is in dental care. Numerous toothpastes, mouthwashes, and oral care applications contain clove oil as a significant ingredient. Clove has a long history in Indian and Chinese cuisine, and has also been extensively used for centuries in both Chinese and Ayurveda medicines.
---
Aroma: Spicy, warm, woody, with slightly fruity top notes
Properties: Antioxidant, anticoagulant, anti-inflammatory, anti-aging, antifungal, antiseptic, antiviral, antimicrobial
Plant Origin:  Madagascar, Spice Island
Element: Fire
Planet: Jupiter
Gender: Maculine
Chakra:  Root Chakra
Spiritual Aspect: Prosperity, Love, Protection, Inspiration
---
Benefits for Massage & Skincare:

Provides relief from pain and stress
Reduces the effects of aging (wrinkles, sagging skin)
Can be used topically for fungal infection and athlete's foot
Beneficial for wounds, cuts, scabies, and bruises
Helpful for problem skin, especially for acne
Can also be used for treating insect bites and stings
---
Health Benefits:
Improves circulation and increases metabolism
Useful for boosting the immune system
Can be beneficial for respiratory disorders including coughs, colds, bronchitis, asthma, sinusitis, and tuberculosis
Effective for treating hiccups, indigestion, motion sickness, and flatulence
Helpful in reducing nausea and vomiting
Purifies the blood and helps control blood sugar levels
Refreshes the mind and stimulates brain function
---
Emotional Uses:
Its relaxing & calming effects make it an excellent stress reliever
Beneficial for memory loss, depression, and anxiety
Creates a sense of protection and courage
Encourages sleep and stimulates dreams
---
Spiritual Uses:
Awakens the senses to completion and oneness
Can be used when we are afraid and in need of angelic assistance
Brings the message of inspiration and moving forward, springing the spirit into action
---
TIPS:
Cold feet? Add 3 drops to your body oil or lotion to increase circulation to the extremities, especially the feet.
Use this oil in a diffuser to raise spiritual vibrations in your home and to purify the space.
Wear on the skin (in a blend) to attract prosperity. (Try the Prosperity Blend by Gaia's Healing Gifts!)
---
Precautions: It may cause burns if not used properly. This essential oil should always be used in diluted form, and furthermore, it should not be used by people with unusually sensitive skin. Avoid while pregnant and when having liver or kidney disease. Anticoagulant properties can be enhanced when combined with warfarin, aspirin, etc.
---
Recipe for Heartburn Relief Blend
2 drops of Clove Essential Oil
3 drops of Lavender Essential Oil
1 teaspoon of Vegetable Oil
Mix ingredients and rub the upper abdominal area with the blend.
---
Recipe for Heartburn Relief Tea:
Dissolve a teaspoon of honey in a cup of warm water and add 1 drop of clove essential oil. Sip slowly.