by Bethanny Gonzalez, Certified Aromatherapist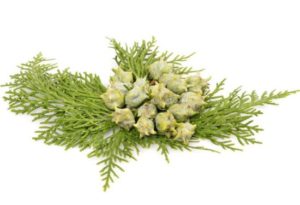 AROMA: Fresh, herbaceous, spicy with balsamic undertones
PROPERTIES: Calming, relaxing, sedative, astringent, antiseptic, antispasmodic, deodorant, diuretic, hemostatic
ELEMENT: Air
PLANET: Saturn
CHAKRA: Third Eye and Crown
SPIRITUAL ASPECTS: Transition, Protection, and Longevity
---
The Essential Oil of Cypress (Cupressus sempervirens) is obtained through steam distillation of young twigs, stems and needles of the cypress tree. Cypress comes from a Greek word sempervivens meaning "live forever". The cypress tree is known as the sacred flame of life. It symbolizes long life, and the immortality of the soul.
---
BENEFITS for Massage & Skin Care:
Tightens loose skin and muscles
Excellent for treating scar tissue
Helps with oily or troubled skin
---
HEALTH BENEFITS:
Relieves spasms and eases menstrual cramps
Reduces heavy bleeding
Beneficial for treating external and internal wounds
Tones up the respiratory system and increases the efficiency of the lungs
Causes perspiration, therefore helps quickly remove toxins & excess water
---
EMOTIONAL USES:
Helps relieve nervous tension, stress, and anxiety
Stimulates a happy feeling in case of anger or sadness
Eases feeling of loss and effects of trauma
Provides grounding and feelings of security
Helps to connect the human spirit with the wisdom of the universe
Brings structure and collection of thoughts
---
SPIRITUAL USES:
An Angelic fragrance that can be used to assist in the transition and release from the earthly plane
Provides comfort, healing, and protection
Cleanses the aura, raises energy levels, and creates feelings of security
---
Pet Friendly: Have your pet smell it directly from the bottle, or place a few drops in your palm, then pet the animal head to toe.
This oil is available at GODDESS I AM Healing & Art Center and at www.GaiasHealingGifts.com
---
RECIPE for Oil Blend in Times of Transition & Grieving:
2 tablespoons of Coconut Oil
4 drops of Cypress Essential Oil
2 drops of Vetiver Essential Oil
2 drops of Lavender  Essential Oil
Blend all ingredients together and place in small glass container. Place a small amount on the hands and then breathe in the aroma. This blend can also be massaged into feet or desired area of body before and during transition.
---
CAUTION: Only use on skin when well diluted and combined with other soothing oils. Cypress essential oil should be avoided by pregnant women. As with all essential oils, never use undiluted in eyes or mucus membranes. Do not take internally unless working with a qualified and expert practitioner. Keep away from children.
---
DISCLAIMER: ALL INFORMATION CONTAINED WITHIN THIS PAGE IS FOR REFERENCE PURPOSES ONLY AND IS NOT INTENDED TO SUBSTITUTE THE ADVICE GIVEN BY A PHARMACIST, PHYSICIAN, OR ANY OTHER LICENSED HEALTH-CARE PROFESSIONAL. GAIA'S HEALING GIFTS PRODUCTS HAVE NOT BEEN EVALUATED BY THE FDA AND ARE NOT INTENDED TO DIAGNOSE, TREAT, CURE, OR PREVENT ANY HEALTH CONDITION OR DISEASE.