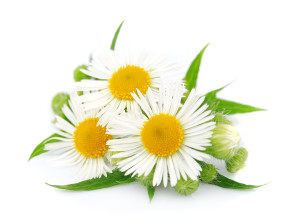 Camomile (Anthemis Nobilis) Essential Oil is extracted from the flowers of the Roman Camomile plant. It has been used for centuries to promote deep sleep and relaxation. This calming and uplifting essential oil has many emotional and physical health benefits. As a home remedy, it is traditionally used to help digestion, calm the nerves, fight infections, improve circulation, and so much more.
---
Aroma: fruity, strong, herbaceous, dry and sweet scent
Properties: Soothing, anti-inflammatory, anti-allergenic, anti-spasmodic, antidepressant, antiseptic, antibiotic, disinfectant
Spiritual Aspects:  Love, Longevity, Happiness, Inner Peace, Spiritual Awareness
Element: Air
Chakra: Heart & Throat
Gender: Feminine
---
Benefits for Massage & Skin Care:

Reduces inflammation when used in a compress
Excellent for sunburns when combined with lavender and aloe
Improves skin elasticity and soothes dry, itchy skin
Helps to clear acne, athlete's foot, dandruff, and eczema
Cuts, ulcers, and wounds can be treated with a diluted wash
Diminishes scars and dark spots on the skin
---
Health Benefits:
Helps reduce pain in muscles and joints, headaches, toothaches, and bone injuries
Stimulates circulation and helps detoxify the blood from toxins
Aids the digestive and urinary systems
Can help prevent and fight infections
Beneficial for jaundice and liver problems
Aids the treatment of rheumatism and arthritis
Chamomile Essential Oil is safe for babies, children, and pets in proper dose
---
Emotional Uses:
Useful for insomnia especially when blended with lavender and orange
Balancing to central nervous system
Helpful for irritability
Uplifts the spirit and eliminates depression
Relieves anger and exhaustion
Alleviates tension and stress
Creates emotional stability

---
Spiritual Uses:
Brings inner peace and joyfulness
Allows us to connect with the spiritual realms for comfort and unity
Can help clear away past emotional debris
Harmonizing, and soothing to the spirit
---
 Tips:
Use in an essential oil diffuser throughout the home for cleansing and purification.
Add 10 to 15 drops to your bath to attract love.
---
Did you know?
Chamomile essential oil can be used to lighten hair color.
---
THIS ESSENTIAL OIL IS AVAILABLE AT GODDESS I AM HEALING & ART CENTER
---
Recipe for Sleep Blend                                  
3 drops Chamomile
4 drops Lavender
3 drops Clary Sage
3 drops Sweet Orange
Drip essential oils on a cotton ball, and then place it in your pillowcase to ensure a good night's sleep.
---
DISCLAIMER: ALL INFORMATION CONTAINED WITHIN THIS PAGE IS FOR REFERENCE PURPOSES ONLY AND IS NOT INTENDED TO SUBSTITUTE THE ADVICE GIVEN BY A PHARMACIST, PHYSICIAN, OR ANY OTHER LICENSED HEALTH-CARE PROFESSIONAL. GAIA'S HEALING GIFTS PRODUCTS HAVE NOT BEEN EVALUATED BY THE FDA AND ARE NOT INTENDED TO DIAGNOSE, TREAT, CURE, OR PREVENT ANY HEALTH CONDITION OR DISEASE.
ESSENTIAL OIL OF THE MONTH: CHAMOMILE