by Bethanny Gonzalez, Certified Aromatherapist
www.GaiasHealingGifts.com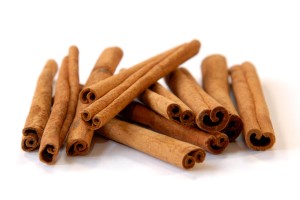 Cinnamon Bark (Cinnamomum Zeylanicum) essential oil has been long used for its culinary and medicinal properties. The oil is extracted from the outer bark of the cinnamon tree, resulting in a potent, red-brown colored essential oil. For centuries cinnamon oil has been used in many cultures as a tonic, a digestive aid, mood support, and to flavor foods and drinks. The oil may cause irritations and allergic reactions in some individuals; therefore it should be used with caution.
Traditionally, cinnamon has been used for treating a variety of health disorders including diarrhea, arthritis, blood deficiencies, circulatory problems, cramps, infections, colds, flu, and digestive problems.
---
Aroma: Clean, sharp, refreshing, and spicy with a sweet undertone
Properties: Antibacterial, antifungal, antimicrobial, astringent, anti-inflammatory, and anti-clotting
Chakra: Lower Chakras
Spiritual Aspects: Love, Prosperity, Protection
---
Benefits for Massage & Skin Care:
Blended with carrier oils, it can be used on the skin to increase collagen levels* for up to six hours after it is applied
Clears congested skin when properly diluted with honey in a mask
Helps in the healing of infections and the treatment of shingles
*Breakdown of collagen causes the skin to lose elasticity and increases signs of aging. 
---
Health Benefits:
Beneficial for balancing hormones
Promotes circulation both internally and when applied to the skin
Maintains a healthy immune system
Promotes oral health
Helps alleviate sore muscles and joints
Boosts brain activity

---
Emotional Uses:
Cools down emotions in angry and irritable people
Clears head and aids in mental concentration
Can be used in oil burner or diffuser to clear the air
Strengthens the nervous system and has a stimulating effect
Correlates to our sense of safety and security
---
Spiritual Uses:
Supports self-acceptance, self-love, and self-confidence
Can help clear trapped emotions from past traumas
Encourages energy and strength
Helps us transforms sadness into happiness
---
Did you know?
Cinnamon is one of the oldest spices known to man. According to "the World's Healthiest Foods", it was valued in ancient Egypt not only as a medicine and beverage flavoring but also as an embalming agent. At certain times throughout history, cinnamon was so precious among ancient peoples that it was considered more valuable than gold, and regarded as a highly prized gift for royals and even for gods. (www.whfoods.org)
NOTE: Possible sensitivity in some individuals may occur. Direct inhalation can activate gag reflex. Use with caution.
---
THIS ESSENTIAL OIL IS AVAILABLE AT GODDESS I AM HEALING & ART CENTER
---
Recipe for Warming Mask:
1/2 cup of finely ground Oatmeal
3 tablespoons of Honey
1/4 cup of Yogurt
2 drops of Cinnamon
2 drops of Chamomile
2 drops of Frankincense
3 drops of Grapefruit
1 to 3 tablespoons of Almond, Avocado or Coconut oil
Mix ingredients, let mask sit for a minute, then apply to clean skin. This mask will increase the circulation of the area it is applied to.
---
DISCLAIMER: ALL INFORMATION CONTAINED WITHIN THIS PAGE IS FOR REFERENCE PURPOSES ONLY AND IS NOT INTENDED TO SUBSTITUTE THE ADVICE GIVEN BY A PHARMACIST, PHYSICIAN, OR ANY OTHER LICENSED HEALTH-CARE PROFESSIONAL. GAIA'S HEALING GIFTS PRODUCTS HAVE NOT BEEN EVALUATED BY THE FDA AND ARE NOT INTENDED TO DIAGNOSE, TREAT, CURE, OR PREVENT ANY HEALTH CONDITION OR DISEASE.
---
ESSENTIAL OIL OF THE MONTH: CINNAMON BARK