by Bethanny Gonzalez, Certified Aromatherapist
www.GaiasHealingGifts.com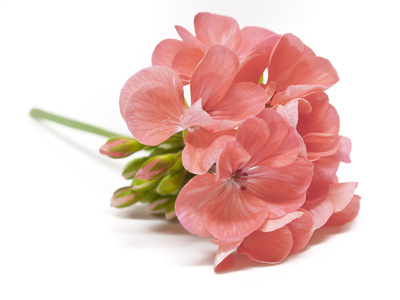 Geranium (Pelargonium Odorantissimum) Essential Oil is extracted through steam distillation of the stems and leaves of the Geranium plant. It is widely used in aromatherapy for its many health benefits, including its ability to balance hormones, relieve stress and depression, reduce inflammation and irritation, improve the health of the skin, alleviate the effects of menopause, improve circulation, benefit dental health, boost kidney health, and reduce blood pressure. Geranium is a potent insecticide and can be used as a mosquito repellant. It also has haemostatic properties, which means it can help stop bleeding. This makes it very useful for treating injuries and speeding up healing.
---
Aroma: Heavy, Sweet, Floral
Properties: Anti-depressant, diuretic, regulating, balancing, astringent, analgesic, antiseptic, antibacterial
Element: Water
Planet: Venus
Spiritual Aspects: Protection, Health, Fertility & Love
---
Benefits for Massage & Skin Care:
Cleansing, refreshing and astringent; broadly used in skincare
Excellent for congested and oily skin
Speeds up the healing of minor cuts and injuries
Useful for eczema, shingles, burns, lice, and ringworm
Can be used as a mosquito repellant
---
Health Benefits:
Beneficial for balancing hormones
Useful for circulatory problems
Fights infections and can be used to cleanse wounds
Helps relieve pre-menstrual tension and excessive fluid retention
Benefits dental and kidney health, and helps reduce blood pressure
Can help relieve hot flashes during menopause
---
Emotional Uses:
Helps alleviate anxiety, anger, depression
Balances emotions and relives stress
Excellent for mood swings, easing frustration, and reducing irritability
---
Spiritual Uses:
Can be used for Inner Child Healing
Helps to open the heart and heal old, painful memories
When used in meditation, it can help you connect to the angelic realms
NOTE: For spiritual work, pure essential oils should be used.
---
THIS ESSENTIAL OIL IS AVAILABLE AT GODDESS I AM HEALING & ART CENTER
---
Recipe for Skin & Muscle Soothing Body Soak
1 cup Epsom Salt or Celtic Sea Salt
1 tablespoon Coconut Oil
4 drops Geranium Essential Oil
2 drops Chamomile Essential Oil
2 drops Cypress Essential Oil
Mix well in small bowl, and then add to warm bath. Put on some relaxing music and soak.
---
Recipe for Facial Cream (for combination skin):
3 drops Ylang-Ylang Essential Oil
3 drops Geranium Essential Oil
2 drops Chamomile Essential Oil
Blend into ½ 1/2 oz. of your favorite facial moisturizer.
---
DISCLAIMER: ALL INFORMATION CONTAINED WITHIN THIS PAGE IS FOR REFERENCE PURPOSES ONLY AND IS NOT INTENDED TO SUBSTITUTE THE ADVICE GIVEN BY A PHARMACIST, PHYSICIAN, OR ANY OTHER LICENSED HEALTH-CARE PROFESSIONAL. GAIA'S HEALING GIFTS PRODUCTS HAVE NOT BEEN EVALUATED BY THE FDA AND ARE NOT INTENDED TO DIAGNOSE, TREAT, CURE, OR PREVENT ANY HEALTH CONDITION OR DISEASE.
---
ESSENTIAL OIL OF THE MONTH: GERANIUM