by Bethanny Gonzalez, Certified Aromatherapist
www.GaiasHealingGifts.com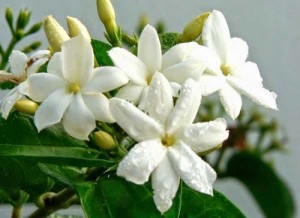 Aroma: Warm, sweet, exotic, floral fragrance with herbaceous and fruit base notes
Properties: Antidepressant, aphrodisiac, antiseptic, uterine tonic, sedative, uplifting
Element: Air
Planet: Venus
Gender: Feminine
Chakras: Heart & Root
Spiritual Aspects: Dreams, Love, Beauty and Sensuality
---
Jasmine (Jasminum Officinale) Essential Oil is extracted from the flowers of the Jasmine plant that has been used throughout history for romance and attraction and for balancing the feminine energy of the body. Besides its sweet, exotic scent, Jasmine essential oil has many impressive health benefits.
---
BENEFITS for Massage & Skin Care
•    Lessens fine lines and wrinkles
•    Helps fade scar marks
•    Benefits dry, brittle, or dehydrated skin
---
HEALTH BENEFITS
•    Promotes deep, restful, and undisturbed sleep
•    When inhaled, it provides relief from coughs by helping clear out phlegm in the respiratory tracts
•    When applied to wounds externally, it can effectively eliminate potential infections
•    May give relief to those women who suffer from irregular, obstructed, or painful menses or an untimely menopause
---
EMOTIONAL USES
•    Relaxes, soothes, and uplifts an anxious mind
•    Boosts energy and cheerfulness
•    Builds self-confidence and optimism
•    Reduces nervous stress and fights depression
---
SPIRITUAL USES
•    Helps you to connect with your inner Goddess and to bring out your inner beauty
•    Helps you to access your own sensual energy and connect with    the energy flow around you
•    Brings your desires and wishes of the heart to light, and opens a channel to the angelic realms
TIP: Wear this oil on your pulse points to attract romance and love. Add a few drops to your                                             bath before bed time to bring sleep and prophetic dreams.
---
THIS ESSENTIAL OIL IS AVAILABLE AT GODDESS I AM HEALING & ART CENTER
---
RECIPE for Sensual Massage Oil
¼ cup Almond or Macadamia Nut Oil
1 tablespoon Coconut Oil
4 drops Jasmine Essential Oil
1 drop Patchouli  Essential Oil
Gently massage into the body.
---
DISCLAIMER: ALL INFORMATION CONTAINED WITHIN THIS PAGE IS FOR REFERENCE PURPOSES ONLY AND IS NOT INTENDED TO SUBSTITUTE THE ADVICE GIVEN BY A PHARMACIST, PHYSICIAN, OR ANY OTHER LICENSED HEALTH-CARE PROFESSIONAL. GAIA'S HEALING GIFTS PRODUCTS HAVE NOT BEEN EVALUATED BY THE FDA AND ARE NOT INTENDED TO DIAGNOSE, TREAT, CURE, OR PREVENT ANY HEALTH CONDITION OR DISEASE.
---
ESSENTIAL OIL OF THE MONTH: JASMINE