by Bethanny Gonzalez, Certified Aromatherapist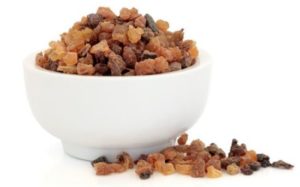 Myrrh is a sap-like substance (resin) that comes out of cuts in the bark of trees that are members of the Commiphora species. The essential oil of myrrh is extracted from the resin. Myrrh has been used in beauty products and incenses, and also for its medicinal properties for centuries. In ancient Egypt it was used to prevent aging and to maintain healthy skin. The oil obtained from myrrh was used for healing wounds in ancient Greece.
AROMA: smoky, bitter-sweet
PROPERTIES: antimicrobial, astringent, expectorant, antifungal,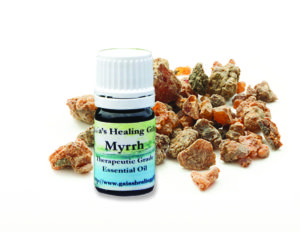 stimulant, carminative, antiseptic, immune booster, circulatory, tonic, anti-inflammatory, and antispasmodic
CHAKRA: Root
PLANET: Saturn
ELEMENT: Water
SPIRITUAL ATTRIBUTES: Acceptance, Peace, Protection
BENEFITS FOR MASSAGE & SKIN CARE
Helps maintain healthy skin
Soothes chapped or cracked skin
Commonly added to skin care products to help with moisturizing and for fragrance
HEALTH BENEFITS
Fights viral infections that can cause coughs and colds
Sedates inflammation in cases of fever or viral infections
Strengthens and activates the immune system and keeps the body protected from infections
Stimulates blood circulation, digestion, secretions, & the nervous system
EMOTIONAL USES
Helps calm the mind and soothe the emotions
Stimulates thoughts and the intellect
SPIRITUAL USES
Helps to calm and bring peace to the body, mind, and soul
Promotes spirituality, healing, courage, and strength
Brings understanding, acceptance, and compassion
Assists those who are unable to forgive themselves or are in need of energetic rescue
TIP: 3 to 5 drops of Myrrh Essential Oil in an aroma lamp, diffuser, or an oil burner to lift the vibrations in your space and to create a peaceful atmosphere for meditation.
Recipe for Tooth Ache Blend:
1 tablespoon Coconut Oil
3 drops Myrrh Essential Oil
3 drops Wintergreen Essential Oil
3 drops Clove Essential Oil
Blend Essential Oils together. Swish mixture in mouth.
This Essential Oil can be purchased locally.  Check out GaiasHealingGifts.com to find a store near you.
PRECAUTIONS: According to a study published in the journal Phytotherapy Research, if myrrh oil is consumed in excessive amounts, it may affect your heart rate and lead to severe heart irregularities. Other possible side effects of myrrh oil include: Lowered blood pressure, uterine bleeding, fever, and diarrhea. Some people may also experience allergic contact dermatitis when using this oil. It may also interfere with anticoagulants, so I advise that you avoid using it orally if you are taking these medications. Avoid while pregnant.
ESSENTIAL OIL OF THE MONTH: MYRRH