by John Patton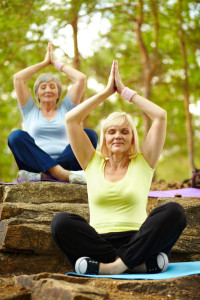 Healthy living and aging in my opinion means being free of chronic disease, having a sharp mind, and being able to enjoy life to the fullest with family and friends at any age.
It is important to educate ourselves on what causes disease during the aging process. Given that healthy living and aging are not necessarily related, aging does not automatically include disease. The aging process our bodies move through over the years and the chronic conditions that develop are not inextricably connected. One does not result in the other. The choices we make daily with diet, exercise, rest, and spiritually all contribute to the quality of life we experience as we move into our later years.
The American image of aging for many is one of decline. This portrayal, while reflective of some people's experience, is not and does not have to be representative of the cumulative process. If aging is framed in decline and deterioration, this belief will result in a mindset that has no room for enjoyment, and will foster the tendency to become lost in what we no longer have. This takes us into a defensive posture driven by "what's coming" and fear-based decision making. After years of neglect and abuse to the body, we jump into prevention and often into treatment, skipping maintenance. Prevention is activated by maintenance. Maintenance is creating a live process based in the moment, doing what is needed now to be fulfilled and healthy: "living as a well-being". This approach supports life rather than the loss of it.
I believe that our current western medical model is "sick care" not health care. It is fear based and results in the buying of more than needed medical care and long term care insurance, not health insurance. An example: research shows that 50 percent of those diagnosed with Alzheimer's disease on autopsy did not have the disease, and lived and died with something that was quite reversible with changes in diet, physical and mental exercises, and nutrition supplementation.
Changes in cognition, as well as the maintenance and care required throughout life are how we prevent these symptoms. As the markers of cognitive decline arise, there are specific processes we can include in our daily life, such as diet, mental and physical exercise, hydration, reviews of medications, choline and glutamate uptake, and a variety of daily activities. This is maintenance which results in prevention: ways and practices to prevent cognitive decline and maintain cognition levels we have to become used to — not less overtime, more.
Once we know, there is only doing or pretending not to know. There is no healthcare that can change that. The responsibility is ours. Doing is becoming and becoming is being. We are aging, time is passing. Change is not a demon, merely a reality that life does slow. We evolve or we stagnate.
So are you doing or pretending not to know? What choices are you making? Are your self-limiting beliefs holding you back? Remember, aging does not automatically include disease. The ingredients to healthy living and aging are diet, hydration, activity, creating peace, stimulation, challenges, creative expression, resting, loving, and being loved. Start today and experience the changes and improvements in your life!
---
REFERENCE
Lon White, M.P.H., M.D. Honolulu-Asia Aging Study (HAAS) Clinical-Neuropathologic Analyses Pacific Health Research and Education Institute, Honolulu, Hawaii
---
ABOUT THE AUTHOR
John E. Patton, AP, LMHC is the founder of the Healing Arts Center in Naples, Florida. (See ad on back cover.) He is a Board Certified Acupuncture Physician, Mental Health Counselor, and Psychotherapist, having a private practice for 30 years with degrees and broad experience in Rehabilitation Counseling, Acupuncture and Psychology.