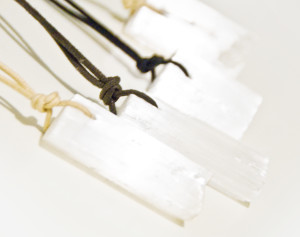 Note from the Editor:
We shared the story of "Building a Selenite Network" in the September 2015 issue of White Lotus Magazine. The response from our readers was heart-warming, and the article seemed to have motivated others to share their stories of Selenite with us. I was inspired to publish some of these stories and call them "Selenite Transformations".
---
This is one of the stories:
"Recently, a lovely woman gave me a Selenite necklace from around her neck – simply because I commented on how pretty it was. When I went home, I gave it to my son, as I thought he could benefit from its properties.
I also wanted to get one for myself. I searched around town and I couldn't find a pendant that felt right, but later I found one online and ordered it. Then I saw the woman who gave me the Selenite necklace another time, thanked her again for the necklace and explained that I had given it to my son. She said, 'You need it, too.' For the second time, she gave me the Selenite necklace that she herself was wearing, before I had a chance to tell her that I had ordered one for myself. A short while later that same day, a good friend commented on the necklace I was wearing, so I 'knew he needed it' and put it on him. (Apparently, I have become part of a Selenite Network, kind of a Pay It Forward Movement that's taking place in Naples. I believe this may be her mission because almost everyone who works at Food & Thought is wearing these Selenite necklaces. I think they are mostly from generous her.)
Later on, a precious friend who I had asked where to find a Selenite slab for cleansing crystals, brought me one that seemed to be glowing from within, and gave me the third Selenite necklace I had received that month! Third time is a charm, so I kept this one!
Both of these lovely ladies recommended White Lotus Studio for Selenite. I found it to be an awesome place with an amazing energy and a lovely owner. It is worth checking out if you enjoy crystals and jewelry. There I purchased two more Selenite necklaces I was inspired to share with loved ones.
I could feel 'a pay-it-forward energy' from the necklaces that were given to me. It was as if they were telling me that their purpose was to be shared with someone else. Perhaps that's how they were programmed.
After reading the article on the 'Selenite Network' in the September issue of White Lotus Magazine, I understood the connections with all these special people: me, my Reiki student, and the Selenite in my life —  the Universal Love and Light connects us all."
---
If you have a Selenite Story you'd like to share with our readers, please send it to:  WhiteLotusMagazine@gmail.com.