by Shemane Nugent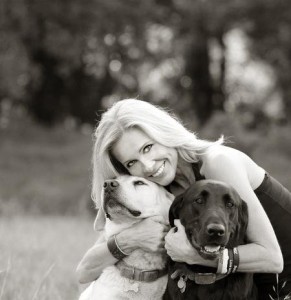 "Until one has loved an animal, a part of one's soul remains unawakened." – Anatole France
Many people feel that their pets are members of their families. Dogs, cats, birds, and even reptiles are included in holiday photos. Some pet owners have astonishingly bequeathed large sums of money to their pet companions in their wills. Why all the love and adoration for these friendly companions?
Dogs are commonly referred to as man's best friend for good reason. No matter how difficult our day is, no matter what we look like or how we feel, our faithful comrades love us unconditionally. Even when we're at our worst – feeling sad, sick, unsightly, ill, with bed head, baggy sweats, and no makeup – our cherished pals love us. And the feeling is mutual.
The pet industry, including food, toys, and clothing, has reached more than $55 billion in sales. Petsweaters, shoes, and strollers are all the rage! My girlfriends love to get the shed antlers I find on my ranch for their dogs. Jam-packed with vitamins and minerals,   antlers make great chew toys. Dogs do more than just eat and play. They are essential members of our communities.
Dogs comfort the ill and assist the military, law enforcement, and the handicapped. Their innate sense of smell helps them detect bad guys, bombs, and drugs, keeping us safe. They save countless lives as healing companions to our brave military heroes. Ted and I have recently partnered with K9s for Warriors, an organization that provides shelter dogs with veterans suffering from Post Traumatic Stress. Besides being a source of comfort, dogs can be trained to open cupboards and doors. They are the eyes for the blind and can detect cancer, low blood sugar, and even seizures!
No matter what kind of mood you're in, your pet is happy to see you and provides unconditional love. Spending time with your pet can help lower blood pressure and cholesterol and can prevent heart attacks. Just being around my dogs is calming and boosts my spirits. Pets just want to be loved and to love you back. The happiest part of my day is spending time with my dogs. It takes my mind off me and puts the focus on what I can do to make my dog happier and healthier.
(Excerpt from Shemane Nugent's newest book: 4 Minutes a Day, Rock 'n Roll Your Way to Happy)
---
ORDER SHEMANE'S NEW BOOK ON AMAZON.COM
---
ABOUT THE AUTHOR
Shemane is a highly sought-after motivational speaker and Zumba® Master Class Trainer.  An ambassador for healthy living, Shemane Nugent has been a group fitness instructor for more than 30 years. She is a motivational speaker, author, award-winning TV producer and host, filmmaker, and is passionate about helping people make a positive impact on their health and overall well-being. She has appeared on MTV, Vh1, Discovery, CMT, C-Span, FOX, and many other national television and radio shows.  Shemane got her start in media as a radio newscaster in 1980. Visit shemanenugent.rocks
The Healing Power of Pets