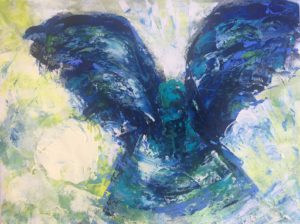 by Andrea Beloff
I invite you to learn how I have come to paint the angels around me. These hosts of heaven became an integral part of a new direction that my artistic career took starting in the fall of 2014. My history involves having been a dedicated papermaker in the Traditional Japanese method for 25 years in a highly detailed and textured tropical context. Next came a preservation period through an 8-year life-induced Sabbatical. During this time I learned about spiritual and emotional healing through art. The next step in my path was the best one yet: tackling my love for abstract art and trying my hand at it. In doing this, I have found heavenly bliss. I enthusiastically share that I have stepped into the most beautiful kaleidoscopic world of spiritual richness and renewal, filled with Biblical foundation. (John 1:1-18)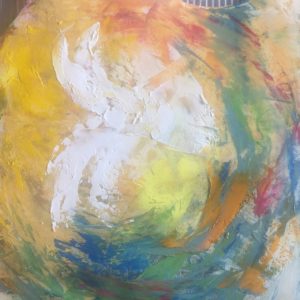 A few years ago, the angels comforted me as they witnessed my lonely struggle and daily longing to look at the way Christ's great salvation found expression in my life. In my 11 x 12-foot cubicle on the second floor of an old eight-story building, with a window to a downtown Miami freeway overpass, I would break down crying and pleading for new direction in my life and my art. I began to feel the presence of something that I couldn't wrap my head around. As I wrestled with my pain, I also prayed. As I painted, I practiced the songs that I would sing at Church when I got invited to sing with the team. And what an honor that was! As I found relief in this daily practice, first and foremost, I cultivated spiritual dependence and an intimate relationship with my Creator. I went from deep pain to extreme exhilaration. Secondly, it generated my breakthrough into contemporary art.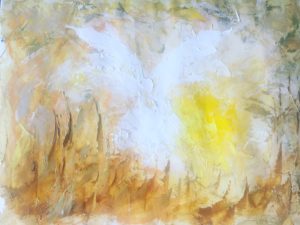 I explored this rich, layered look of rhythmic palette knife painting techniques using oil painting as my medium. I played and played with this repeatedly. I placed the paint onto these acid-free disposable palette sheets and mixed the colors, lifted the silky, luscious paints and applied them to my canvases. In the end, I couldn't figure out what excited me more, the painting or the leftover paint on the palette. The palettes became treasures filled with angelic imagery of the unseen world! One by one, an angel would emerge. They reflected the themes I painted: surrender, joy, faith, hope, gratitude, forgiveness,  compassion, guidance,  the battle between good and evil, the light and the dark, just to name a few.
A completely new body of work emerged — the angel art. The angels as a byproduct of my paintings became proof to me that there is interaction between the visible and the invisible realms. The artwork erupted with a passion and strength unparallel to anything I had ever experienced. The revelation of these angels was indeed purposeful.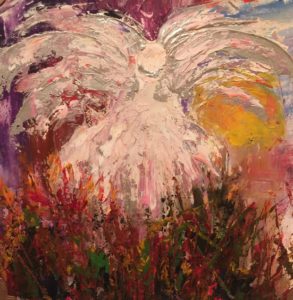 I am currently showing the painted angels, compiling the information, writing the stories and hoping to publish a book about the angels — who they are, information on their creation, their activities and purpose as stated in the Bible, their power, the differences compared to us human beings, their need for obedience as they do exercise moral judgment, their ability to sin and fall from their positions (2 Peter 2:4; Jude 6), and also that not all of them are angels of light (2 Corinthians 11:14).
From this perspective, I share my personal stories and visual declarations of this invisible world. I believe that it is part of my purpose to bring awareness of the existence and ministry of angels in the world today. I welcome you to experience them through the Painting Angel Collection at my Studio/Gallery, or at the ART Gallery Collective, and also through my website: www.andreabeloff.com and support me in the process of writing my first book.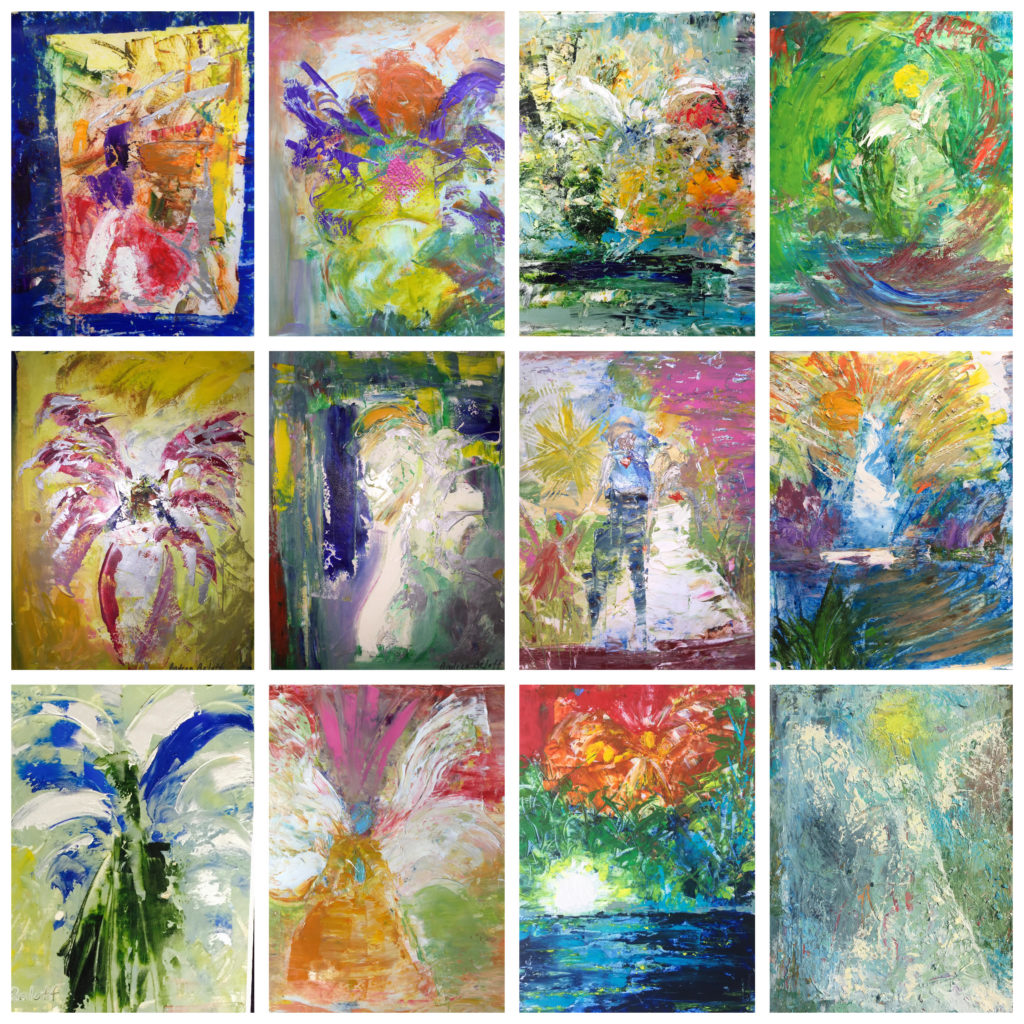 ABOUT THE ARTIST
Andrea Beloff is an American-born artist with a unique background of Argentinean, Brazilian, Russian and Italian influences. She spent 28 years in California, graduated from UCSB, and attended L'Accademia di Belle Arti in Venice, Italy. She fully developed her career as a Papermaker during this time specializing in a very creative collaging process in a tropical genre. Before moving to Miami in 2012, she began a Sabbatical which set her off exploring and combining other mediums along with her handmade papers and this led to the beautiful LOVE and Abundance Series which can be seen in her Gallery. This was an artistic as well as a spiritual rebirth that then took her onto her new path and here to Naples, painting abstract expressionism using palette knives with spiritual undertones.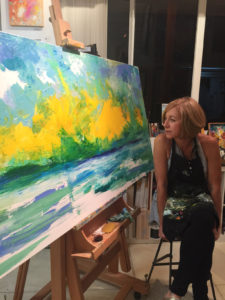 Andrea Beloff FINE ART
5760 Shirley St. #20 Naples, FL 34109
(305)773-0358
Gallery Night at Andrea Beloff FINE ART is every 1st Wednesday of the month, 5-8pm
and every 3rd Saturday of the month, 10-4pm.
ART GALLERY Collective At the Shoppes at Vanderbilt
2355 Vanderbilt Beach Road #144 Naples, FL
Gallery Night at ART GALLERY Collective is every 2nd Wednesday of the month, 5-8pm
THE STORY BEHIND THE PAINTING ANGEL ART COLLECTION